WTA Tour Starts From 1-6 January and ATP World Tour Starts From 8-14 January 2018
You can watch Auckland Open 2018 HD live stream which is sponsored by the ASB, it is also called as the ASB Classic. The ASB Classic is a professional tennis tournament and it is Co-sanctioned by the ATP World Tour 2018 and WTA Tour 2018. Every year it held at the ASB Tennis Centre in Auckland, New Zealand and will be played on the outdoor hard courts before the first Grand Slam event the Australian Open.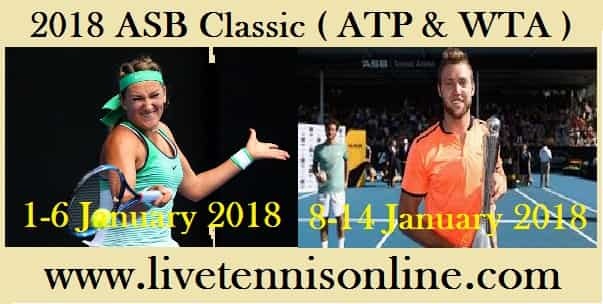 Don't miss to watch ATP and WTA ASB Classic 2018 tournament live stream from 1 to 6 January 2018 for the women's and 8th January to 14th January 2018 for the men's. Don't forget to watch ASB Classic 2018 men's and women's tennis tournament live streaming on your computer, laptop or any smart devices from all over the world, all you need to join our website to get our premium subscription at a very cheap price.
Event: 2018 ASB Classic
Date: 1–6 January (women's), 8–14 January (men's)
Category: WTA International, ATP 250
Draw: 32S / 16D (women), 28S / 16D (men)
Prize money: $226,750 (women's), $561,345 (men's)
Surface: Hard
Location: Auckland, New Zealand
Venue ASB Tennis Centre
The 2017 defending champions Lauren Davis and Jack Sock will return in the 2018 ASB Classic to defend their titles. The Victoria Azarenka has won a 20 WTA titles, including 2 open victories 2012 and 2013 along with Victoria Azarenka another top ranked tennis player are confirmed such as Caroline Wozniacki, Julia Goerges, Barbora Strycova, and Agnieszka Radwanska. The WTA tour, tennis event will be played before the men's, so this way both events united under the one name.
2018 ASB Classic Women's Schedule:
Date
Session
Gates Open
Session Time
Round
Sat 30 Dec
Day
9:00am
10.00am - 8.00pm (approx)
Qualifying - R1*
Sun 31 Dec
Day
9:00am
10.00am - 6.00pm (approx)
Qualifying - R2*
Mon 1 Jan
Day
Night
9:00am
6.00pm
10.00am (Match Courts) - 6.00pm (approx)
12.00noon (Centre Court) - 6.00pm (approx)
7.00pm - 10.30pm (approx)
Qualifying - R3*
Round 1
Round 1
Tue 2 Jan
Day
Night
11:00am
6.00pm
12.00noon - 6.30pm (approx)
7.00pm - 10.30pm (approx)
Round 1
Wed 3 Jan
Day
Night
11:00am
6.00pm
12.00noon - 6.30pm (approx)
7.00pm - 10.30pm (approx)
Round 2
Thu 4 Jan
Day
Night
11:00am
6.00pm
12.00noon - 6.30pm (approx)
7.00pm - 10.30pm (approx)
Quarterfinals
Fri 5 Jan
Day
2.00pm
3.00pm - 8.30pm (approx)
Semifinals
Sat 6 Jan
Day
11.00am
12.00noon - 6.00pm (approx)
Finals
2018 ASB Classic Men's Schedule :
Date
Session
Gates Open
Session Time
Round
Sat 6 Jan
Day
11.00am
12.00noon - 8.00pm (approx)
Qualifying - R1*
Sun 7 Jan
Day
11:00am
12.00noon - 9.00pm (approx)
Qualifying - R2*
Mon 8 Jan
Day
Night
11.00am
6.00pm
12.00noon - 6.30pm (approx)
7.00pm - 10.30pm (approx)
Round 1
Tue 9 Jan
Day
Night
11:00am
6.00pm
12.00noon - 6.30pm (approx)
7.00pm - 10.30pm (approx)
Round 1
Wed 10 Jan
Day
Night
11:00am
6.00pm
12.00noon - 6.30pm (approx)
7.00pm - 10.30pm (approx)
Round 2
Thu 11 Jan
Day
Night
11:00am
6.00pm
12.00noon - 6.30pm (approx)
7.00pm - 10.30pm (approx)
Quarterfinals
Fri 12 Jan
Day
2.00pm
3.00pm - 8.30pm (approx)
Semifinals
Sat 13 Jan
Day
11.00am
12.00noon - 6.00pm (approx)
Finals