Watch Australian Open Tennis 2020 Live
Begins From 20 Jan - 02 Feb 2020
Watch the 2020 Australian Open Tennis first grand slam tournament live coverage from 20 January to 02 February 2020; it will be taking place at the Melbourne Park in Melbourne, Victoria, Australia. Australian Open 2020 is a tennis event which is played on the hard court. Every season this event is organized by ITF and it is part of the WTA Tour and ATP World Tour under the grand slam category. This Australian Open 2020 tournament features for men's and women's singles and doubles rounds as well as a mixed doubles, legends, junior and wheelchair competitions. The Melbourne Park consist retractable roofs above its 3 event courts, the Hisense Arena, Rod Laver Arena and Margaret Court Arena.

In 2016 Australian Open Tennis tournament Novak Djokovic has won the men's singles title from Andy Murray and has made a record by winning 6 times Australian Open title. Whereas Serena Williams was 2015 women's singles defending champion, but she has failed to defend her title and was losing the 2016 Australian Open grand slam final from Angelique Kerber. The Kerber was the first German player who has won a Grand Slam title.
Novak Djokovick has won the 2019 men singles Australian Open Title and Naomi Osaka won the women's singles title. Lets see this year who will get the Australian Open 2020 trophy.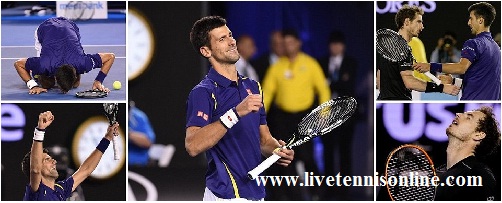 livetennisonline.com shows you all live tennis streaming in HD so don't miss any moment of Grand Slam events or any of the tennis federations in the world. You can watch here multi games with the best video streaming resolution. If you are die heart tennis fan and you are looking for the best quality streaming sites, then you will just visit our website and get your membership which is low cost. Furthermore, livetennisonline.com does not permit any of the annoying, bugging ads to pop up on your screen; you can watch every tennis match and other sports in a high quality. So why are you waiting for, subscribe today and enjoy 2020 Australian Open live streaming on your PC, laptop or any smart devices worldwide.

Australian Open Schedule 2020
Rounds

Session

Date

Time

Men's and Women's First Round

Day and Night

20 January 2020

11:00 AM- 7:00 PM

Men's and Women's First Round

Day and Night

21 January 2020

11:00 AM- 7:00 PM

Men's and Women's Second Round

Day and Night

22 January 2020

11:00 AM- 7:00 PM

Men's and Women's Second Round

Day and Night

23 January 2020

11:00 AM- 7:00 PM

Men's and Women's Third Round

Day and Night

24 January 2020

11:00 AM- 7:00 PM

Men's and Women's Third Round

Day and Night

25 January 2020

11:00 AM- 7:00 PM

Men's and Women's Four Round

Day and Night

26 January 2020

11:00 AM- 7:00 PM

Men's and Women's Four Round

Day and Night

27 January 2020

11:00 AM- 7:30 PM

Men's and Women's Quarterfinals

Day and Night

28 January 2020

11:00 AM- 7:00 PM

Men's and Women's Quarterfinals

Day and Night

29 January 2020

11:00 AM- 7:00 PM

Men's and Women's Semifinals

Day and Night

30 January 2020

11:00 AM- 7:00 PM

Mixed Doubles Semifinal / Women's Doubles Final
Men's Semifinal

Twilight: and Night

31 January 2020

3:00 P.M- 7:30 PM

Girl's & Boy's Singles Finals
Women's Final/Men's Doubles Final

Day and Night

1 February 2020

1:00 PM-7:30 PM

Mixed Doubles Final
Men's Final

Twilight: and Night

2 February 2020

4:30 PM- 7:30 PM